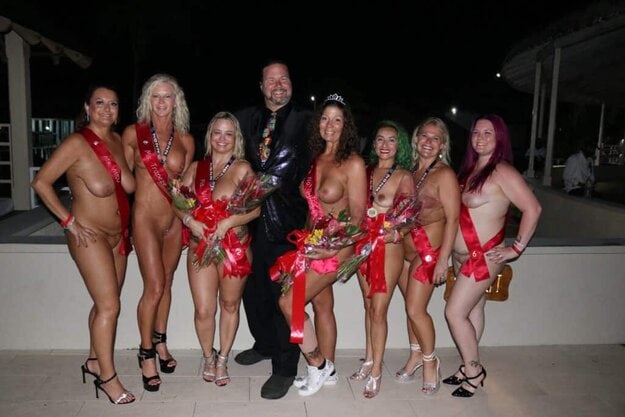 About
The Ms. No Swimsuit competition is the longest running lifestyle pageant. This contest has been running for over 23 years and has produced some wonderful winners. But the contest isn't really about producing a winner it is really about the wonderful relationships that are formed in the au natural environment of Hedonism II.
The Ms. No Swimsuit contest brings together various swing clubs, conventions, and websites from across the U.S. and Canada. Each of the organizations chooses a girl to represent their club and brings down a contingent of their own lobbyists. During the course of the week the girls participate in events and interact with the judges. At the end of the week all of the judges get to vote for their favorite girls, and the winner is announced at the grand finale on Friday evening.
The beauty of the contest is that the judges are not some snotty suits. Every guest who books their trip with Tom's Trips or one of our authorized partners is a judge in the contest. So all week the girls and their clubs are out their lobbying for your vote. They might twist your arm with a shot of Patron, their Talent Show Act, or maybe something more personal.
There are events during the day and at night all week long including:
•Theme Nights
•Welcome Party
•Talent Show
•Nude Fashion Show
•Pool Deck Parties
•Daily Happy Hour Events
•Naked Pool Games
•Wet T-Shirt Contest
•Catamaran Cruise
If you have never been to the Ms. No Swimsuit contest you are missing out on not just a great party but a new set of friends that will show you how to laugh, love, and play like no other group on earth.
Events
Attending The 2024 Ms. No Swimsuit Contest 
Cum be a judge for the international finals of the longest running Lifestyle Pageant! By booking your trip with Tom's Trips you are entitled to be a judge, and that is a GOOD thing. In our contest flirting with the judges is not only allowed, it is encouraged. We will have amazing women from around the United States and Canada representing the hottest clubs, conventions, cruises and websites. 

Ms. No Swimsuit 2024
March 2nd – 9th, 2024 @ Hedonism II Resort
To Book Your Trip and For Pricing Information: 
Click Here: https://www.tomstrips.com/product/ms-no-swimsuit/
Or call us at 800-285-0853 today!

The 2024 Pageant Week will include:
Sexy Contestants from around North America
Meet the contestants Cocktail Party
Give Away for $500.00 resort cash for Hedonism II
Nude Fashion Show
The Anything Goes Catamaran Trip
The Bareware Contest
Talent Show
Wet T-Shirt Contest
Negril Pub Crawl
Mark Maze Beach Party
Daily Pool Parties Featuring Mark Maze
The Ms No Swimsuit Finals Pageant
Crowning of Ms No Swimsuit 2024
Call Tom's Trips for a reservation at 
(800) 285-0853
Additional Resources